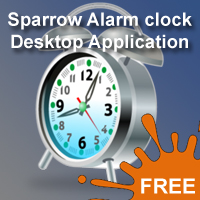 You got tired to wake up in the morning with annoying sounds from regular alarm clocks? Your cellphone's alarm is great but you can't hear it? You wishing to use the power of your computer speakers but you don't want to let

PC

running overnight just to wake you up in the morning? Well, here is a fast solution for you. Sparrow alarm clock can be installed on your system for free.
Using Sparrow alarm clock is very easy. All you have to do is download the software and install it on your windows based computer. Each time you run the application will automatically check and download the latest version from our servers.
Running my application for first time
when you run this application for first time, you will need to setup your music folder. You can do that from Options->Music folder. Be sure your folder contains music files with .MP3 extension. Once you have assign music folder into system, you are ready to use the application.
Setting alarm
you can set your alarm using 24hour time (military time) on the lower left fields. When you are sure the time is correct you click the set button. You will notice your alarm time will be display with yellow letters on the screen and on its left the remaining time. Your alarm is set and ready. Depending on your system capabilities this system can use your computers APC (Advanced Power Control) to wake up your computer while is in sleep mode at specific time.
Putting my computer to sleep mode
before you put your computer to sleep mode, you have to be sure that the indicator APC is visible and green at the lower left of your application. That indicator should be visible when you click Set, and disappearing when you unset your alarm. Green and visible indicates that sparrow alarm clock have successfully setup your APC and your computer will wake up 1 minute before the alarm time set.
How I put my computer to sleep?
Depending on your system capabilities, your system can go to S1 or S3 standby mode. In case you can't find the sleep or standby button, you can select Power->sleep and your system will enters in sleep mode.
What do I need to run this application?
This application is written under .NET framework. So you will need a windows based system with .NET 3.5 SP1 installed. The necessary components will automatically install with application.
Click here to download this application for free.