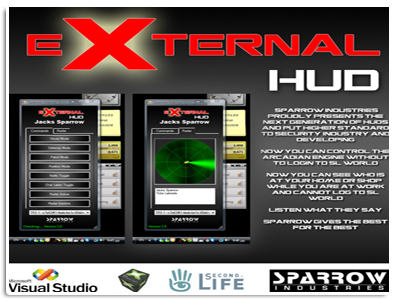 Don't have any time to log in to Second Life® to control or change settings of your bot? With our eHud you can remotly control your Sparrow bot without needing to be logged on. The eHud has different functions which you can change, some of them include a working, patrol mode. You can also activate or deactivate a radar function from the bot.
The only thing you need is a Windows PC or Notebook with the latest version of DirectX installed and offcourse your rezzed Sparrow bot on your SIM.
Go to the shop, you can buy a lifetime license for the eHud there. You get your password after you paid the vendor.
*You receive your password after you've paid the vendor* (In green letters)
When you're ready to go, head to our website where you can download the required software.
After that, you can install the software onto your PC and start using our great eHud!
Sparrow EHUD brakes the bounds of Secondlife world and follows you out!!!, Now you are able to control the Arcadian system from your desktop without to log to sl, use the radar to see who is near your home, club, shop and control the basic functions. To be able to use the EHUD you have to get licences from the main Sparrow Shop.
For now the EHUD is avaliable for all bots with Arcadian engine except DragonFly, in the near future all the products will be compatible with EHUD. So if you do want to use it then you will do have to do the following steps.
1st if you dont own a Sparrow bot with Arcadian engine you need to buy one, or to request a redelivery from our terminals in case you allready own it to get the latest version.
2nd look near the Sparrow enterance for the EHUD signs , there you can purcharce licence(lifetime). After you pay the vendor, your password will be provided in your local chat together with link to this site for downloading software.
Fired up the program and use your username that you have in sl , and the password provided by our systems, NOT YOUR SL PASSWORD.
Now just unzip the software and run it, be sure you have the latest .NET 3.5 framework from Microsoft.